Friends of Celebrate Brazil
These are some of our friends here at Celebrate Brazil, and also some useful websites on Brazil that I think you'll enjoy!
---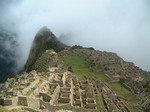 Recently voted one of the Top Ten best world travel destinations, Peru has a lot to offer!
From the Amazon jungle and world-class surf beaches to the famous Machu Picchu, Lake Titicaca, Nazca Lines, and more, find out everything you need to know about Peru.
Explore the customs, culture, food and recipes of the people of Uruguay. Discover the cities beaches activities and tourist attractions. Learn about the history, government, economy and Uruguay Real Estate for sale.
This is the website of our Portuguese teacher Luciana who is truly fantastic to work with. I highly recommend her and her entire teaching team! They do an exceptional job of teaching you Portuguese the way it is really spoken in Brazil, and with lots of real, daily life examples that you can use right away. My husband and I always enjoy our lessons!
Home
›› Friends of Celebrate Brazil